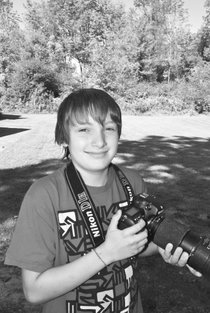 Joseph McIntyre
Joseph McIntyre is a photographer who attends O'Rourke Middle School in Burnt Hills.
Recent Stories

Double M is full of tosses and turns
A sign of summer in Ballston Spa is the Double M Professional Rodeo each Friday and Saturday night.

It came down to one kick with one second left for Guilderland to advance in the Section 2 playoffs against Colonie on Oct. 25.

The Spartans welcomed home alumni on Oct. 12 with a stunning 49-0 victory over Amsterdam. See all the pictures from the game.

Burnt Hills Ballston Lake dominated South Glens Falls on Oct. 4 with a 60-14 win over the Bulldogs. These are photos from the game.
Christian Brother Academy beat Ballston Spa 42-0. See all the photos from the game.

The Spartans continued their winning ways from last year winning 69-25 over Lansingburgh. The Knights visited Burnt Hills in the opening game of the High School season on Sept. 6, but found out the Spartans were ready to play.

Close contest in opener
Guilderland and Ballston Spa battled it out on the gridiron on Sept 6 on opening day of the 2013 Section 2 boys high school season. The Scotties were leading into the fourth quarter when Guilderland made a 14-0 run to win the contest 28-21. See all the photos.

Tartans on a tear. The Scotia-Glenville boys basketball team hosted South Glens Falls on Dec. 21. See the photos of the game.

Spartans sprint past the Silver Warriors
These are photos from Friday's boys basketball showdown in Burnt Hills.

Photo Gallery from Saratoga vs Burnt Hills girls basketball.