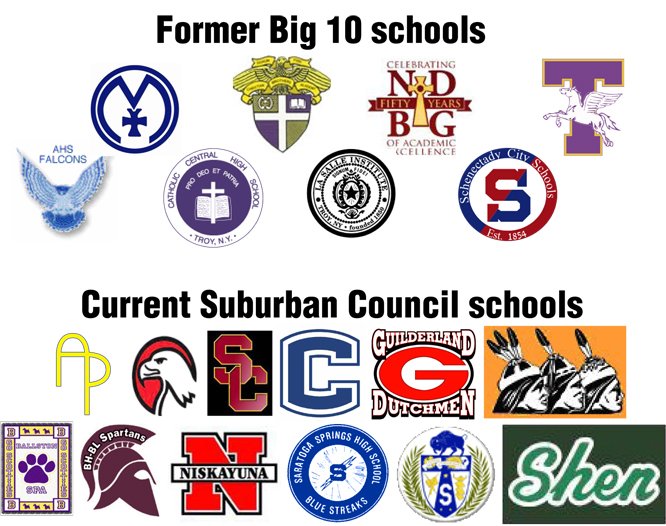 The Big 10's demise could spell big changes for the Suburban Council.
The Big 10 – one of two high school leagues, along with the Suburban Council, to include Class AA schools last year – announced last month that it would no longer continue. The decision to dissolve the league happened shortly after Amsterdam announced it was leaving the league to join the Foothills Council.
"It's always a sad thing to see something like that go," said Christian Brothers Academy athletic director Blaine Drescher. "With that said, we're focusing on the positives."
CBA is one of six Big 10 schools that are now independent for at least the 2014-15 school sports season. Albany, Schenectady, Catholic Central, LaSalle, Bishop Maginn and Notre Dame-Bishop Gibbons will also be independent, while Troy has announced it will be joining a league to be named.
Drescher said going independent gives CBA an opportunity to determine its own schedule, rather than having to face a certain group of schools.
"We're going to have the luxury to keep the relationships we're familiar with, if we feel we have the competitive match-ups," said Drescher. "But, it also gives us an opportunity to explore other match-ups against some of the premier programs in Section 2 and beyond."
Where this could impact the Suburban Council is if some of the former Big 10 schools apply to join the league for the 2015-16 season. The Suburban Council currently has 12 members spread throughout Albany, Schenectady, Saratoga and Rensselaer counties, and the schools are divided into geographical divisions in most sports where they play their divisional opponents twice and the other schools once. Adding any schools will create the potential of splitting the Suburban Council into three divisions and force teams to play each league opponent once in order to fit everybody into their schedules.
(Continued on Next Page)
Prev Next
Vote on this Story by clicking on the Icon