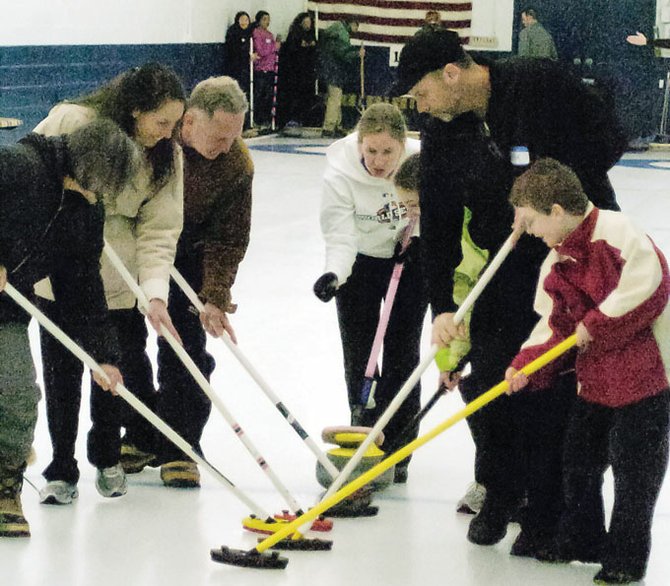 GUILDERLAND — Do not be fooled by what you've seen on television. Curling is harder than the Olympians make it look.
I should know. I gave the sport a try during the Albany Curling Club's open house Saturday in Guilderland.
One of the first things they made people do when they entered was sign a waiver form indemnifying them from any injuries you might incur trying the sport. You might think, "How serious of an injury can you suffer? It's curling, not hockey."
But let's not forget, curling is played on ice. And no matter how hard it is or how well they "pebble" the ice (creating little bubbles on the surface by drizzling water on top and letting it freeze), it's still slippery. If you're not careful, you can land face-first or butt-first onto it, and it will hurt. Also, you're not wearing any safety equipment. That factors into what happens when you land.
However, curling isn't what one would consider to be a "serious" sport. The atmosphere is congenial, and sportsmanship is a major component. In fact, there is a pamphlet in the lobby describing all the proper curling etiquette, including complimenting your opponents when they make a good shot, being courteous and quiet when a curler is in the "hack" (more on that in a minute) and being ready to go when it's your turn.
"You shake hands before the game, and you shake hands after the game," said Ed Muller, a 76-year-old Guilderland resident who has been an Albany Curling Club member for 18 years. "Then, you can sit around a table afterward with your teammates and opponents and talk about what's going on in your lives over a beer."
The club asked open house participants to bring clean sneakers with them to wear on the ice. Just in case you weren't certain about the cleanliness of your soles, you could go to a shoe washing station in the lobby where two club members were stationed, buckets and brushes at the ready. As I learned later from one of the instructors, any kind of dirt or hair tracked onto the ice can create a problem. The environment has to be kept clean in order for the ice to be perfect.
(Continued on Next Page)
Prev Next
Vote on this Story by clicking on the Icon