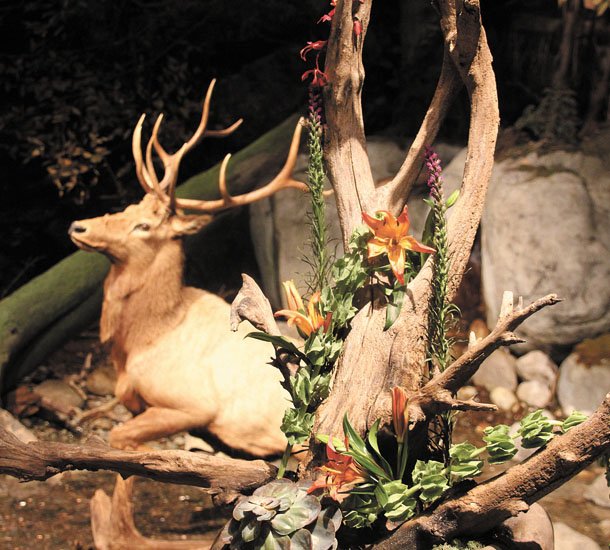 ALBANY — Gazing into one of David Michael Schmidt's floral displays is like stepping into another world, one of fantasy and surrealism, and Schmidt doesn't hold back when he adds his lavish storytelling display to the New York State Museum's annual flower show.
IF YOU GO
• What: "New York in Bloom"
• When: Feb. 21-Feb. 23
• Where: New York State Museum
• How much: $5 for adults; free for ages 12 and under
• Info: www.nysm.nysed.go...
"Last year, and again this year, he designs these absolutely extravagant floral displays in the front lobby," said Antonia Valentine, a spokeswoman for the museum. "Last year, he took objects from the museum's display and designed a floral display around it — not your usual floral display — they are over the top."
The designer has been somewhat tight-lipped about the details of his upcoming creation for the museum's 23rd annual New York in Bloom to be held Friday, Feb. 21, through Sunday, Feb. 23, though he said those who like stories of a woodland fairy tale are going to like this one.
"We will be featuring some of the most amazing woodworking artistry I have ever seen," Schmidt said.  
Schmidt's creation is one of more than 100 floral displays that will be featured throughout the museum during the event. Garden club members, professional designers and floral enthusiasts from all over the Capital District are busy planning colorful displays of flowers throughout the museum's galleries for the show.
Valentine said the show isn't a typical flower show, but rather unique because the flowers are intertwined with museum artifacts and backdrops. Designers are assigned a location in the museum and use their creativity to bring the display alive.
Schmidt said he is not quite sure how he comes up with the ideas, but the collection of pieces he finds in the museum that are not on display are key to his designs.
(Continued on Next Page)
Prev Next
Vote on this Story by clicking on the Icon