Josh Krepel
Assistant minister, Bethlehem Lutheran Church
• Hometown: Kingfisher, Okla.
• Current residence: Bethlehem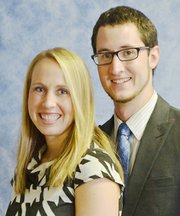 What are you listening to?
I've been listening to a lot of Rend Collective and Imagine Dragons.
What have you been reading?
My wife reads out loud to me. I'm not a reader. We're in the middle of Tom Clancy "Executive Orders."
What have you been watching on TV?
It's been probably three months since I watched television. We really like "White Collar." It's one of our favorites.
What was the last movie you saw?
We just watched "The Lego Movie." I loved Legos growing up, so we just rented it.
What would your dream vacation be?
I would say scuba diving somewhere. My wife loves the beach and I love the mountains, but she eventually convinced me the beach is better.
What is your favorite hobby?
My wife and I like to paint together, so that's my favorite one right now.
What would your last meal be?
I would say... shrimp tacos.
Talk to us about your new position.
I'm the new assistant pastor here at Bethlehem Lutheran and I'm doing the contemporary worship service we are starting on Sept. 7. I'll also be working on outreach community. I didn't really choose this profession, it chose me. I think God wanted me to do this so I ended up 24 hours from my home. We like Bethlehem. It's very pretty, but it doesn't really feel like summer to us, being from the south. We're trying to prepare for the upcoming winter.

Vote on this Story by clicking on the Icon