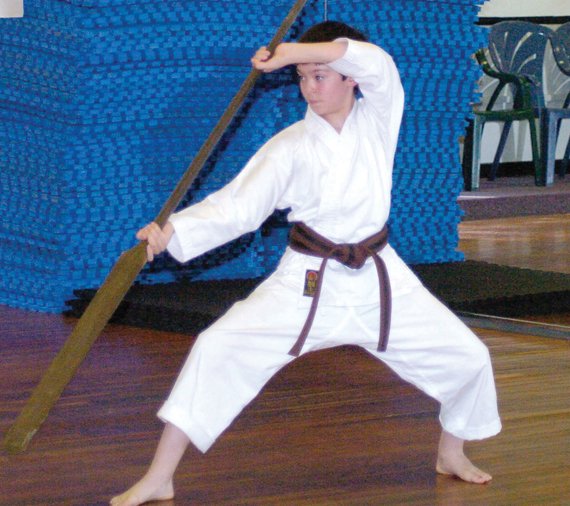 BETHLEHEM — What began as a means to learn self defense has become much more to Pierce Leonardi.
The 9-year-old from Selkirk has turned into a national karate champion. Over the course of the last three years, Leonardi has earned six gold medals, two silver medals and two bronze medals at the AAU championships.
"It's rare that you find a student like Pierce," said Leonardi's teacher, Shihan Tony Butler of Albany's American Institute of Japanese Karate. "You don't find too many kids who have the maturity or the focus to do what he's done."
"He trained for two months with Shihan's help, and two months later he went to nationals for the first time and he won," said Tony Leonardi, Pierce's father.
Pierce said he didn't know what to think when his parents, Tony and Judy, started him in karate after he was bullied at his school.
"There was this one kid who kept hitting me. My parents said, 'That's it,' and they put me in karate," said Pierce. "I wasn't really sure about it, but once I got used to it, it became natural for me."
It didn't take long for Pierce to make an impression on the staff at AIJK. Judy said the beginner's group teacher came up to her and Tony after Pierce's first class and asked if he had taken karate before. Soon after, Pierce was taking classes with the more experienced students.
Butler said he realized he had a special student in Pierce, and he quickly trained him in the three facets of karate – forms, weapons and sparring – for his first trip to nationals in 2012.
"I knew the type of kids that were there, and I knew (Pierce) had a chance," said Butler.
Pierce said the size of the AAU Nationals' venue in Chicago was very large, but he brushed aside any feelings of intimidation and won gold medals in forms and weapons, as well as a bronze in sparring, in his 7-year-old age group.
(Continued on Next Page)
Prev Next
Vote on this Story by clicking on the Icon