Britta Hogue
Owner, Baby Boot Camp of the Capital District
• Hometown: Clifton Park
• Current residence: Loudonville
What are you listening to?
I enjoy all types of music, but lately I have been enjoying the Salt-N-Pepa station on Pandora — brings back a lot of memories.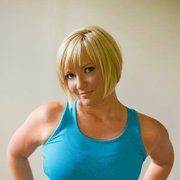 What are you reading?
"Start with Why" by Simon Sinek.
What are you watching on TV?
I really enjoyed watching the recent Crossfit Games. The competitors were just amazing to watch.
What was the last movie you saw?
"The Hunger Games — Catching Fire" out in the theater, but at home, we watch movies all the time ... mostly comedies.
What would be your dream vacation?
An Adirondack adventure. I love the High Peaks.
Who is somebody you would want to meet, dead or alive?
My paternal grandfather. He died when my father was only 15, so I never had the chance and I think that would have been really awesome to have been able to get to know him.
What is something people would be surprised to learn about you?
I am terribly shy to the point it really held me back from trying or doing things growing up. When I tell people now how shy I was, they do not even believe me. I am still shy on the inside, but make it a point not to let it hold me back.
Vote on this Story by clicking on the Icon