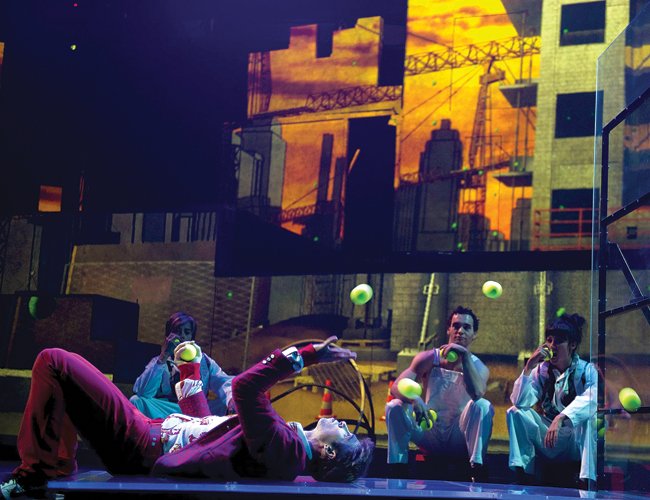 SCHENECTADY — It's big top meets hip-hop meets West Side Story in Cirque Éloize's newest show, "iD," which has set up camp at its summer home at Proctors this month, opening this past weekend to much fanfare.
IF YOU GO
• What: Cirque Éloize's "iD"
• When: Through Aug. 10
• Where: Proctors in Schenectady
• How much: $20-$50
• Info: proctors.org
"We have a tradition for very poetic shows … we broke that promise and went to the streets," said Gabrielle Pauze, director of communications for Cirque Eloize as she described "iD." "Director Jeannot Painchaud created something completely different than what the company had traditionally created — it's a very urban, high-energy explosive show."
The show was first presented in 2009 and has been seen by more than 500,000 people in 50 cities across 15 countries. Cirque Éloize has been traveling the world since 1993 with shows such as "Cirkopolis," "Rain" and "Nomade." The company, a leader in the world of circus arts, is known for its multidisciplinary artistic approach to contemporary circus, combining circus arts with music, dance and theater, and their latest creation is no exception — with something of an urban twist.
The show "iD" combines modern circus skills with urban dance, transporting the audience to a surreal metropolis with acrobats, break dancers and contortionists performing in front of eye-popping 3D projections.
"Up until 'iD,' it was all about the different types of circus disciplines which you still have with 'iD' — juggling and contortion — but in addition there is urban dance, hip-hop, extreme biking and rollerblading in the show," Pauze said.
She adds that it's not just the disciplines, but also the color and flavor of the show, including the music, which is rock, electronic and poetic all mixed up in one.
Painchaud's aim was to create a futuristic city combining comic books, science fiction movies and "the rich universe of graffiti." Tangled up in the chaotic realm of reality is a story about two street gangs, friendships, love and identity ("iD").
(Continued on Next Page)
Prev Next
Vote on this Story by clicking on the Icon