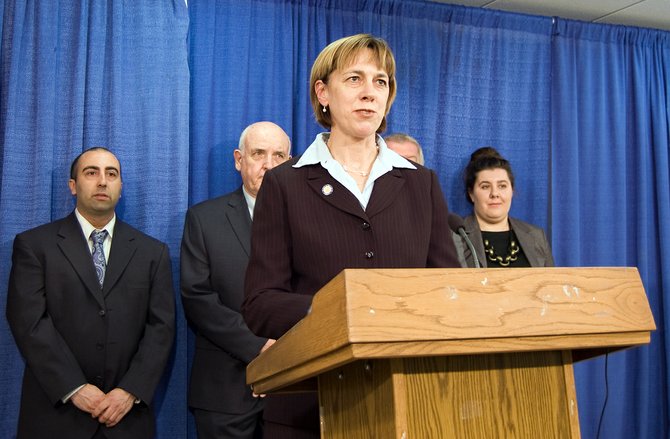 N.Y. CAPITOL — State Sen. Cecilia Tkaczyk had to wait more than two months after the polls closed to be declared the winner in last year's elections, and now she is proposing legislation aimed at preventing lengthy court battles and what she argues is the disenfranchisement of voters.
Tkaczyk, D-Duanesburg, unveiled two bills she is sponsoring during a news conference on Wednesday, May 1, which address legal challenges raised by her Republican opponent George Amedore's legal team. The first bill would eliminate the requirement for voters to include their previous address when completing an affidavit ballot and would stipulate the ballot must be counted if the voter is in "substantial compliance" with voting regulations. Another bill would remove the two-week restriction for ballots given to election inspectors.
"These are two bills that are very simple," Tkaczyk said. "To me, they are no brainers."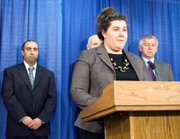 Tkaczyk said she was "appalled" to see election laws being used to "disenfranchise" voters. Drafting changes to election laws became a priority once elected, she said.
"When I ran for the 46th Senate District, I knew I was facing an uphill battle. … I knew it would be challenging," Tkaczyk said. "I thought it would be over though on Nov. 6 … I had no idea that it would take two-and-a-half months and a tumultuous up-and-down process before I finally got seated and sent to the Senate."
The race for the newly drawn 46th Senate District was first ruled as a victory for Amedore, but Tkaczyk's attorneys appealed a judge's decision. The state Supreme Court Third Judicial Department's Appellate Division ordered the counting of around 100 disputed ballots, which ended with Tkaczyk defeating Amedore by fewer than 20 votes.
"These were two of the issues that we fought over in the court," Tkaczyk said. "In my race, democracy stumbled but justice prevailed."
(Continued on Next Page)
Prev Next
Vote on this Story by clicking on the Icon