COLONIE — If you do happen to leave a jacket at an airport security checkpoint you might rest a little easier knowing it could be protecting a homeless veteran from the elements.
The Albany County Veterans Service Bureau is working with the Albany County Airport Authority, the Transportation Security Administration and the Homeless and Travelers Aid Society to distribute unclaimed clothing left at airport security checkpoints to homeless veterans. Albany County Executive Daniel McCoy announced local implementation of the Clothe a Homeless Hero Act on Tuesday, May 28, at Albany International Airport.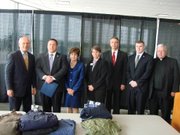 "It is a marvelous program and we are doing something useful with these items that are left," Rev. Kenneth Doyle, acting chairman of the Albany County Airport Authority.
President Barack Obama signed the law in January, which allows the TSA to work with airports and local government to distribute unclaimed clothing to charitable organizations.
"There are over 75,000 veterans nationally that are homeless," McCoy said. "That's almost taking the full population of the Town of Colonie and not having a place to live."
Locally, the Homeless and Travelers Aid Society (HATAS) will periodically pick up the unclaimed clothing and then clean and sort the items. Clothes will then be distributed to homeless veterans and the needy.
"We will make sure that these items are delivered with care, with dignity," Liz Hitt, executive director of HATAS, said.
Rep. Paul Tonko said around 500 to 1,000 pieces of clothing are left behind at airports daily nationwide. Tonko said the program is "a step in the right direction" to helping veterans.
"We owe a tremendous debt to those who have risked their lives to defend our country and preserve the freedoms we hold dear every day," Tonko said in a statement. "This law will provide much needed assistance to our homeless vets while we work to create good-paying jobs here at home for all returning service members."
Doyle said McCoy led the initiative locally and Colonie Town Supervisor Paula Mahan thanked him for bringing the program forward.
"This is such a great program and really a simple solution to one of the problems that exists out there," Mahan said.
Vote on this Story by clicking on the Icon