ALBANY — Recent college graduates often face a mountain of debt that can take years, if not decades, to pay off. And if nothing is done, they might be considered the lucky ones.
Rep. Paul Tonko, D-Amsterdam, SUNY officials and University at Albany students rallied on Monday, July 1, for a freeze of federal student loan rates at 3.4 percent for two years as Congress develops a long-term solution. Since no action was taken before July 1, with Congress in recess until July 8, new borrowers of federally subsidized Stafford loans face an interest rate of 6.8 percent. This wouldn't affects student with existing federal loans.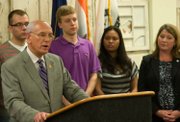 "The efforts here today are to sound the alarm," Tonko said on Monday. "This is a problem that I think is self engineered. We have had plenty of time to work on this situation … so another manufactured crisis is the outcome in Washington."
As of the afternoon on Tuesday, July 9, Congress has not finalized any deal over the federally subsidized student loan rates.
Tonko said students are "severely" impacted by debt, which hurts the economy, hampers small business growth and acts as a "barrier" for young entrepreneurs. The amount of student loan debt has surpassed credit card and auto loan debt, according to federal officials.
Tonko said student loan debt has quadrupled over the past decade.
UAlbany senior Kevin Fox, who is double majoring in political science and communications, said he chose the university for the "value" and "quality programming." He said as student loan debt continues to grow, tuition has risen at twice the rate of inflation.
"When Congress talks about investing in our future, this should be priority number one," Fox said. "Students like me, who are going to be graduating, are already under enough of a burden trying to start their careers … while at the same time struggling to pay off their student loan (interest) rates."
(Continued on Next Page)
Prev Next
Vote on this Story by clicking on the Icon