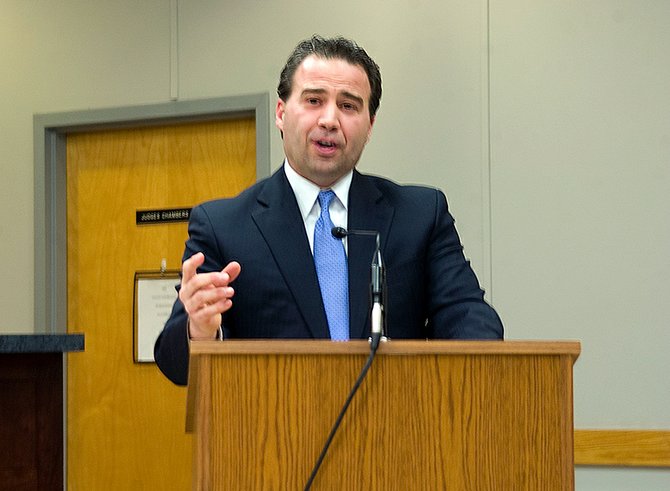 GLENVILLE — After a year full of economic developments, Glenville Supervisor Christopher Koetzle has no plans to back off the throttle in 2013.
Koetzle delivered his State of the Town address at a Town Board meeting Wednesday, Jan. 16, and simultaneously detailed his 2013 Strategic Plan, which focuses on streamlining town operations, continuing economic development, improving town infrastructure and budgeting effectively. Koetzle focused on fiscal responsibility and long-term planning, while maintaining services town residents expect and enhancing the quality of life.
"Our revenues continue to stagnate, our county and state mandated expenses continue to climb out of sight and the taxpayer's pocketbook continues to be at risk," Koetzle said. "We know that we are the government closet to the people, with the responsibility of developing core services to the residents that you've come to expect."
The supervisor hopes to reduce fund balance usage again, to a total of around $500,000. Koetzle's administration has whittled fund balance usage down from $1.4 million in the 2010 budget to $670,000 allocated this year.
"Using your fund balance to pay for operational expenses is akin to using your savings account to pay your mortgage," Koetzle said.
He said the board would also seek to reduce $75,000 worth of non-mandated expenses and present a budget within the state imposed tax cap. Recently appointed Town Comptroller Jason Cuthbert will help Koetzle achieve his goals.
Developers will likely welcome Koetzle's proposal to streamline the approval process for projects.
"We need to establish a rapid response team that can deliver what I call a 'one-pass promise,'" Koetzle said. "We must commit to our developers that you will go through the process once."
Once new businesses open up, Koetzle is hoping to strengthen their local customer base.
He pitched a loyalty program called "G-Bills" for town businesses to offer residents, which would be accrued by shopping at participating businesses and redeemed for some sort of discount. He tapped the town's businesses association for help implementing the program.
(Continued on Next Page)
Prev Next
Vote on this Story by clicking on the Icon