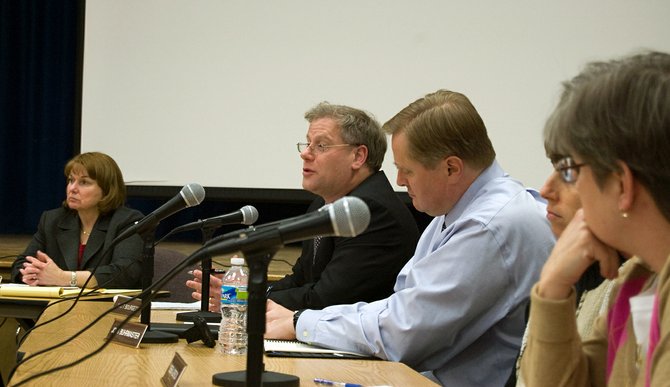 NISKAYUNA — The Niskayuna Central School District is once again struggling to maintain programs and services offered to students, according to Superintendent Susan Kay Salvaggio.
The district is projecting a $6 million budget gap in the 2013-14 school year, which would require an 11.8 percent tax levy increase to close. But the district must contend with an estimated state tax cap of 3.4 percent, which would still require around $4.3 million to be cut.
The Board of Education hosted its first community budget forum on Thursday, Jan 10, with Salvaggio outlining mandated educational programming. From the length of school days to course offerings, the district generally exceeds the minimum requirements.
"In Niskayuna, what is not mandated is valued," Salvaggio said. "Much of what we provide to Niskayuna students defines our community. Our program and our services have been built over time by our outstanding staff, by our students and by our community."
Salvaggio said district officials are trying to determine how to best maintain educational programming and extracurricular opportunities. The discussion is being started off by looking at what is the district is legally mandated to provide.
"You are going to see in a variety of places that what we offer exceeds the mandate and is in fact the program that defines our school," Salvaggio said.
Kindergarten isn't mandated, but the district offers full-day kindergarten. At the elementary level, the school day must be five hours exclusive of lunch. The day from kindergarten to fifth grade is six hours and 15 minutes, including lunch, at Niskayuna schools. For grades seven to 12, the mandate increases to five and a half hours, not including lunch. The district has schools days for sixth to eighth graders at nearly six and a half hours and ninth to twelfth grades at just over seven hours, including lunch.
(Continued on Next Page)
Prev Next
Vote on this Story by clicking on the Icon