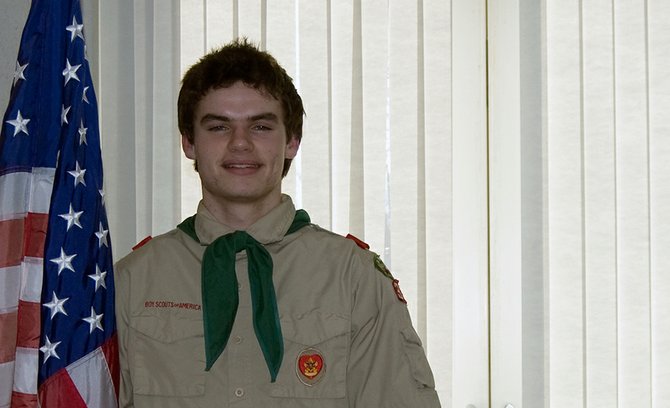 NISKAYUNA — When Brandon Fine started thinking about his Eagle Scout project, he found inspiration from his grandfather, who passed away about 10 years ago.
Fine, a 17-year-old Niskayuna High School senior, joined Cub Scouts when he was in elementary school after his father urged him and his brother to take part in the group he wished he had joined as a child. After several years of dedication to Boy Scout Troop 34, Fine is collecting old, worn American flags for his Eagle Scout project.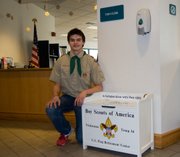 "This project especially has opened my eyes to a lot of things that I didn't think I would be able to do and that's something I can really thank my dad and the Boy Scouts for," Fine said.
Fine's grandfather was a World War II and Korean War veteran serving in the Navy and his "love and respect" for the flag left an impression on his progeny. Fine said he always respected his grandfather as a patriotic person.
After asking around, he said many people didn't seem to know how to properly dispose of an American flag, which should be buried or burned through a formal ceremony.
"He always hated to see people misuse it or not know what the proper ways to retire an old flag were," Fine said. "I thought this project would be something that would not only keep my grandfather's respect for the flag … but it would also give people an opportunity to learn and dispose of their flags in the proper way."
His crossing over ceremony in fifth grade, marking the transition from Cub Scouts to Boy Scouts, was a moment that has stuck with him along his journey.
"Crossing the bridge and joining these bunch of older guys, all these new kids, it just felt like it was going to be a good experience," Fine said. "Since then, I've learned a lot about not only camping and the skills that go along with the Boy Scouts, but I've learned a lot about myself and what is expected of you in the future."
(Continued on Next Page)
Prev Next
Vote on this Story by clicking on the Icon