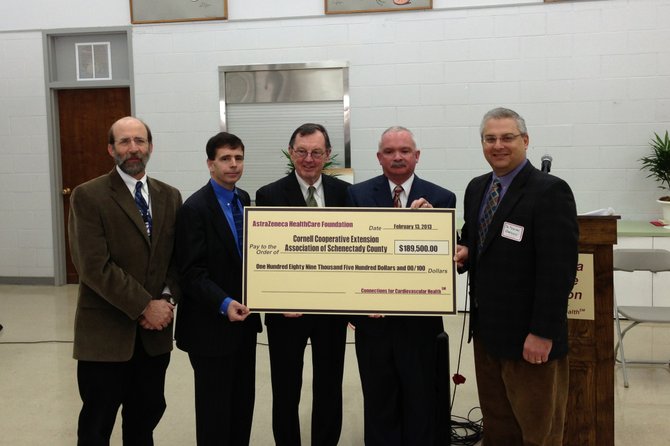 SCHENECTADY COUNTY — The Cornell Cooperative Extension Association of Schenectady County was awarded an $189,500 grant Wednesday, Feb. 13, to support its "Health Shares: Doctors Prescribing Healthy Local Produce to At-Risk, Low Income Families" initiative.
The Health Shares program focuses helping impoverished adults reduce complications of cardiovascular disease and other chronic diseases through increasing vegetable consumption and nutrition education. Through this project, Ellis Health Center physicians will issue vouchers to chronic disease patients that can be used bi-weekly to acquire five meals worth of vegetables.
Cornell Cooperative Extension Executive Director Chris Logue thanked the AstraZeneca HealthCare Foundation's Connections for Cardiovascular Health program for supporting its community initiative.
"Its purpose is to improve the lives of county residents who are at risk for chronic disease through improving nutritional awareness and increasing access to fresh vegetables," Logue said in a statement. "In the future, this project could be a model for local farmers to partner with the health care community to increase access and availability of local fresh produce."
Cornell Cooperative's goal is to reach 400 people and provide produce for 4,000 meals each month. Youth from the Roots and Wisdom agriculture and community service program and individuals with developmental disabilities from Schenectady ARC will grow, harvest and package vegetables at a Schenectady greenhouse and 1-acre garden.
Ellis patients can redeem vouchers at an urban farm stand where nutritionists from Cornell Cooperative will teach recipes incorporating vegetables into daily meal plans.
"Cardiovascular disease continues to be the nation's number one killer, which is why we must work to decrease the risks of this devastating disease," Dr. James Blasetto, chairman of the AstraZeneca HealthCare Foundation, said in a statement. "The AstraZeneca HealthCare Foundation is proud to provide funding to innovative, grassroots programs like the Cornell Cooperative's Health Shares program, which work to help prevent and control the effects of cardiovascular disease in their community."
The Connections for Cardiovascular Health program awards grants of $150,000 and up to US-based non-profit organizations doing innovative work relating to cardiovascular health. This year, its awarded more than $4.4 million in grants to 22 organizations, with $11 million awarded nationwide since starting the program.
Vote on this Story by clicking on the Icon