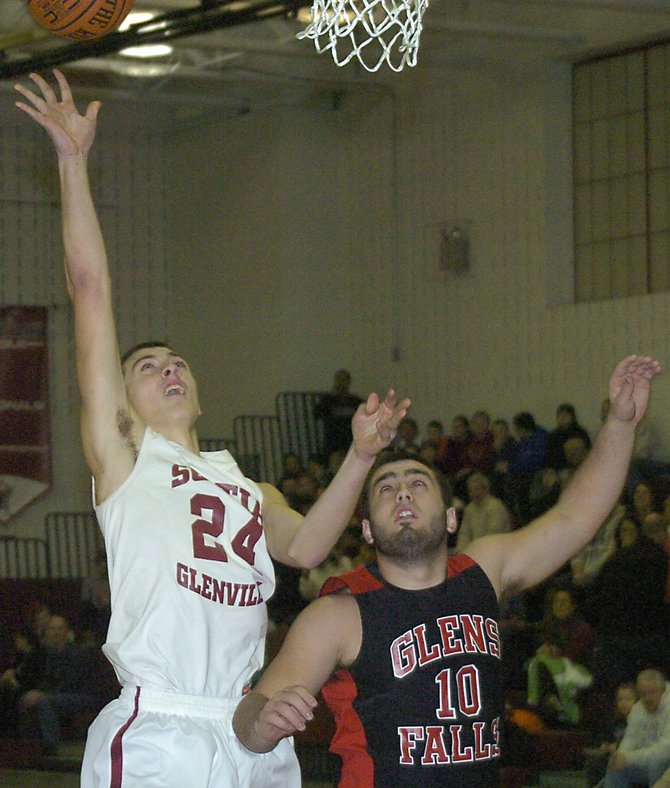 SCOTIA — The search for a challenge continues for the Scotia-Glenville boys basketball team.
The Tartans (13-0 league, 17-0 overall) posted another blowout victory Thursday, as they dismantled Foothills Council foe Glens Falls 74-49 to clinch the league title.
Scotia-Glenville made its first five shots from the field and built a 46-18 halftime lead before cruising to another convincing win.
"You want to be challenged," said Scotia-Glenville coach James Giammattei. "You want to be in close games to see how they respond when they're challenged. It hasn't worked out that way."
Some thought Glens Falls (7-3, 10-5) might offer Scotia-Glenville a challenge, but it became clear early on the Indians were no match. The Tartans scored eight of the first nine points -- a spurt capped when Scott Stopera stole an inbounds pass and hit an easy layup.
Glens Falls called a timeout, but it didn't help as Scotia-Glenville continued to shoot the ball well from all parts of the court. Forward Joe Cremo dominated in the low post and senior forward Andrew Tabbert slashed his way to the basket, while Stopera, Alex Sausville and Dom LeMorta hit long-range shots.
"It's just unselfishness," said Tabbert. "We all know we're going to get a good shot."
As Scotia-Glenville's lead grew, so did Glens Falls' desperation. The Indians heaved shot after shot to no avail, as the Tartans consistently challenged every shot. Scotia-Glenville paid especially close attention to guard Cam Girard, who entered the game as one of Section II's best three-point shooters. Girard never got into a groove from behind the arc, though, as he made only two threes on his way to a season-low eight points.
"Cam is a major threat and a great player, and we did everything we could to make every shot a battle for him," said Giammattei.
LeMorta was the three-point shooting star on this night. The junior guard made five threes on his way to a 17-point performance.
(Continued on Next Page)
Prev Next
Vote on this Story by clicking on the Icon