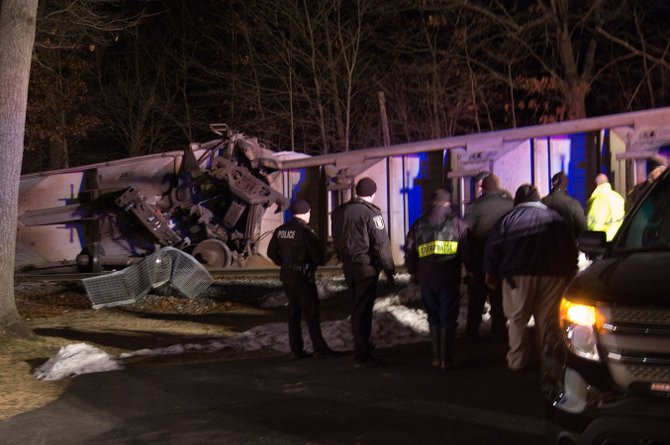 GLENVILLE — Several Pan Am train cars were derailed after conductors apparently slammed a train engine into a parked train while attempting to capture runaway cars, according to local officials.
First responders were called to the scene in Glenville on Thursday, Feb. 7, at approximately 7:26 p.m., according to Town Supervisor Christopher Koetzle, with train cars toppled along the tracks behind Reynolds Mobile Home Park and the adjacent mobile home park. There are no known injuries as of late Thursday night and no hazardous material spilled, according to local officials.
Photo Gallery
Pan Am train derailed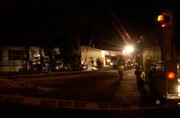 Scenes captured Thursday, Feb. 7, night after train cars tipped over behind two mobile home parks in Glenville.
"There is no imminent threat to the water supply, which we were very concerned about," Koetzle said.
Three of the toppled cars are confirmed to be holding grain and another is holding a "slurry mix" of lime but isn't leaking, according to Koetzle. A town wellfield is located less than half a mile from the crashed train cars, he said.
"There will be a full investigation," Koetzle said. "Our first concern is marking sure that our residents are safe here, our water supply is safe and there is nothing hazardous leaking."
Ed Stern, a resident at Reynolds Mobile Home Park living near the tracks, viewed the spectacle from nearly the beginning to when all the train cars derailed.
Stern was inside his home and heard the train make a louder noise than usual, but he didn't suspect anything at first.
"The train generally makes a lot of noise and you get used to it," Stern said.
Shortly after he dismissed the noise, Stern's cousin, who lives in the adjacent mobile home park, called him because his mother was at their home and heard the same noise. His cousin was at the hospital with his wife, who recently had a baby, and he asked Stern to go outside and make sure everything was fine.
(Continued on Next Page)
Prev Next
Vote on this Story by clicking on the Icon