The Shaker boys basketball team started the 2013-14 season strongly with a 69-48 victory over Burnt Hills-Ballston Lake in Friday's Suburban Council North Division game.
The Blue Bison (1-0) jumped out to a 22-8 lead after the first quarter, and they never looked back in notching their first win of the season.
Malik Dare led four Shaker players in double figures with 18 points. Andrew Holmes sank four three-pointers on his way to a 13-point night, while Seamus McHugh contributed 11 points and Will Francis added 10 points.
Photo Gallery
Shaker vs Burnt Hills: Photo Gallery Boys Basketball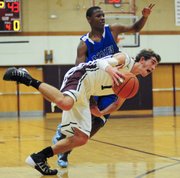 Shaker started off the season with a win against Burnt Hills Ballston Lake on Dec. 6 in the opening round of Suburban Council Boys Basketball action. Shaker won the contest 69-48.
Austin Nydegger led all scorers with 20 points for BH-BL (0-1).
Click Here to see Photos from the Game
In other Suburban Council action, Columbia rallied for a 70-67 overtime win against Colonie in East Greenbush.
The Garnet Raiders (0-1) used a 19-8 second-quarter run to build a 38-25 halftime lead, but the Blue Devils (1-0) outscored them 21-7 in the third quarter to turn the momentum in their favor. Columbia then scored 13 points in overtime to pull out the three-point win.
Jahlil Nails poured in 34 points, and Elijah Lott contributed 22 points to lead the Blue Devils. Sam Hart had 21 points, and Nolan Smith added 15 points for the Garnet Raiders.
Shaker hosts Saratoga Springs Tuesday in a North Division game, while Colonie visits Averill Park in a South Division contest.
Elsewhere on Friday, defending Section II Class AA champion Troy defeated Christian Brothers Academy 59-48 in a Big 10 game.
Dyaire Holt netted 24 points, and Zach Radz chipped in with 15 points for the Flying Horses (2-0), who led 28-17 at halftime. Greig Stire led CBA (1-1) with 14 points.
The Brothers travel to Schenectady to face Bishop Gibbons Tuesday.
Vote on this Story by clicking on the Icon