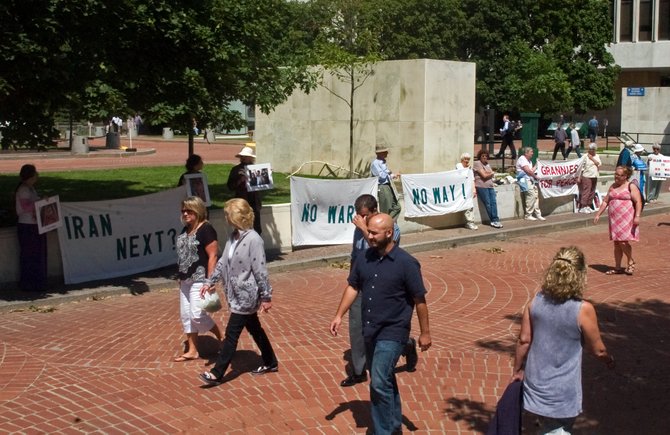 ALBANY — Local peace activists feel the time is right for the United States to readdress its policies regarding Iran, and advocated for public involvement during a summer Albany tradition.
The group Women Against War rallied during the Empire State Plaza Food Festival on Wednesday, Aug. 14. A group of about a dozen members spoke out against the idea of the country entering a war with Iran, carrying three banners that read "Iran next? No war! No way!" Demonstrators also held pictures of Iranian women, children and men and held out flyers stressing the financial cost of war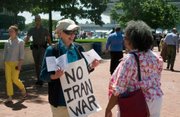 Maud Easter, a Delmar resident and member of Women Against War, said the group sponsored the demonstration because Iran's new president, Hassan Rouhani, appears more receptive to negotiation and peace talks.
"We are very eager to have the U.S. negotiate really seriously with this president one-on-one and be willing to step back U.S. sanctions so that Iran can get something out of the negotiations as well as the U.S.," Easter said. "We feel what's needed is a deal that will work for both parties, so we are here today asking President Obama and Congress to support that, because Congress has been really pushing tougher and tougher sanctions and that's just making the Iranian people less willing to negotiate."
Fellow group member and Delmar resident Mickie Lynn said Rouhani has been a negotiator and "he is not a crazy, belligerent person like the previous president." Lynn pointed to Rouhani helping negotiate the only nuclear deal the country has reached with the West during the last decade.
"There is a real chance for peace if we only take it," Lynn said, "but the world congress has instead been following their old habit of making more and more sanctions and that is not a good way to start negotiations."
(Continued on Next Page)
Prev Next
Vote on this Story by clicking on the Icon