DUANESBURG — An argument between two customers outside a local restaurant led police to arrest two brothers on separate charges after marijuana plants were found.
State Police arrested Justin R. Annis, 31, of Burtonsville Road, Esperance, on the charges of robbery in the second degree and assault in the second degree, both felonies. They also arrested his brother, Joseph S. Annis, 33, of Putnam Road, Schenectady, on the charges of growing marijuana and possession of marijuana.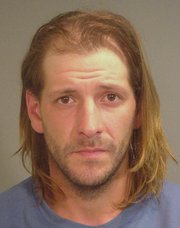 State Police were dispatched to Stewarts on Route 20 in Duanesburg on the morning of Sunday, Oct. 7, to investigate an argument between two customers the previous evening in the parking lot of Jonathan's Restaurant in Duanesburg.
Police discovered the victim, a 68-year-old man with one arm, had "numerous bruises" on his face and head. The man said he was intimidated by Justin Annis and initially declined to press charges, according to police. Annis allegedly punched the victim several times and stole $30 from his wallet.
An alert customer recorded the license plate of the vehicle Annis left in, which led police to his home in Esperance. Police allegedly discovered marijuana plants and marijuana at his home and then Annis fled into a wooded area.
Police searched the woods and surrounding area, but failed to locate Annis. Police then secured an arrest warrant.
Throughout Monday, Oct. 8, police searched various locations and interviewed several family members and friends of Annis. That evening, he turned himself over to State Police at the Princetown barracks.
Annis was arraigned and remanded to the Schenectady County jail in lieu of $15,000 cash bail or $30,000 bail bond. He was scheduled to reappear in Town Court on Thursday, Oct. 11.
His brother, Joseph, faces charges for the marijuana plants and was issued an appearance ticket for the Town of Charleston Court.
Vote on this Story by clicking on the Icon