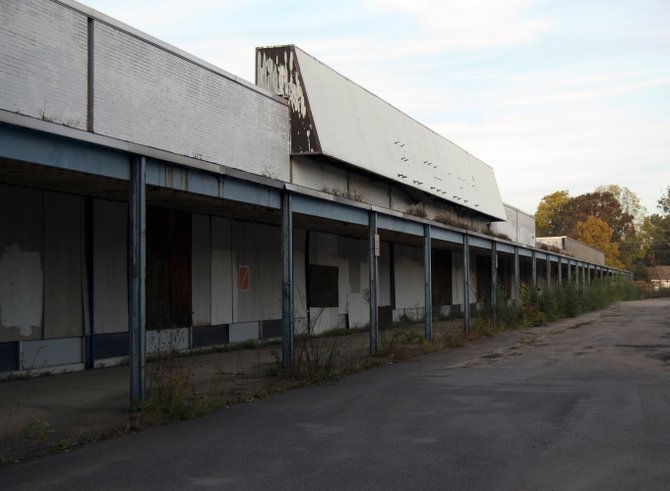 ROTTERDAM — One company that saw potential in Rotterdam's dilapidated Curry Road Plaza four years ago will likely realize its vision after a bidding process shakeup left it as the sole bidder.
The Rotterdam Town Board on Wednesday, Oct. 10, heard Forum Industries President Andrew Sciocchetti, who outlined plans for the blighted 12-acre site that include razing existing structures and constructing four new buildings. Two retail and office buildings, with one at 2,500 square feet and the other at 4,000 square feet, would face Curry Road in Rotterdam. Two, three-story buildings would be built behind the commercial front, total 120,000 square feet and hold 180 senior apartments.
Town Supervisor Harry Buffardi said he is anxious to see the property get back on the tax rolls and be redeveloped.
"It has been languishing there for 25 to 30 years," Buffardi said. "This is town owned property, we got trees growing out of the roof."
The board is expected to vote on Forum Industries' $20 million investment proposal at its Wednesday, Oct. 24, meeting. The company is the only remaining bidder interested in the property, which has remained largely vacant after Kmart left more than two decades ago.
Highest bid withdrawn
Columbia Development Companies had submitted the highest proposed purchase price at $1.2 million, far more than Forum's $375,000 offer.
Town officials had called for bids in June and only two official bids were submitted by the July deadline. Two more bids had been turned in, with one bid delivered to the wrong location and another arriving shortly after the deadline, but the town attorney tossed both out on legal grounds.
The Town Board was expected to pick Columbia's bid, but the company withdrew its bid on Oct. 3 in a two-sentence letter to the town clerk. The letter did not explain the reason for the withdrawal.
(Continued on Next Page)
Prev Next
Vote on this Story by clicking on the Icon