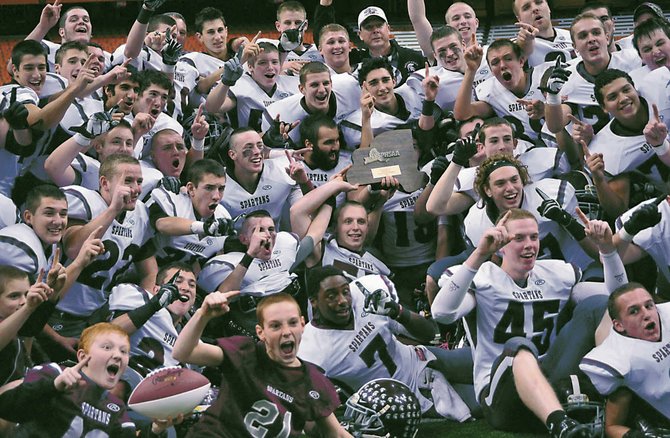 SYRACUSE — No more frustrations or runner-up plaques. No more long, sad faces at the end of an autumn otherwise full of accomplishment.
At long last, the Burnt Hills-Ballston Lake football team is the state Class A champion.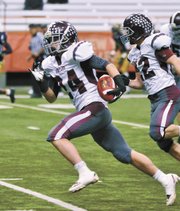 A superb first half on both sides of the ball was more than enough for the Spartans to dispose of Sweet Home (Section VI) 40-20 and claim that elusive title Friday in the Carrier Dome in Syracuse.
It's the Spartans' first title in four trips to the state final. And in winning the game, BH-BL (12-1) became the first Section II team in any class to earn a state championship since Amsterdam in 2005, also in Class A.
"You can only dream of it until it happens," said senior quarterback Ryan McDonnell. "It's the best feeling in the world."
"It's surreal," said senior captain Nick Marchisiello, an anchor of the Spartans' offensive line. "Everyone played at a really high level."
For head coach Matt Shell, who personified BH-BL's long quest to reach the top, the feeling was similar.
"It's tough to put into words," said Shell. "But I'm happy for these kids because they worked so hard for it."
Every BH-BL player, coach and fan knew about the losses in three of the last four state finals - two of them (2008 and 2009) to Sweet Home, the powerhouse from the Buffalo suburb of Amherst.
Now came the Spartans' fourth go-round in the Carrier Dome and third title-game encounter with the Panthers, and a determination to get the ending right.
BH-BL wasted little time in taking the lead. The Spartans took the opening kickoff and went 69 yards in seven plays to the end zone. Dan Maynard's 21-yard run and McDonnell's 23-yard pass to Eric Dillon set up Maynard's 3-yard touchdown plunge.
BH-BL struck again late in the first quarter. Facing third-down-and-17 on the Panthers' 37, McDonnell took advantage of the attention given to Dillon and threw right, catching Dan Nuzzi in mid-stride. Nuzzi took it the rest of the way for a touchdown. Another missed conversion left the score at 12-0.
(Continued on Next Page)
Prev Next
Vote on this Story by clicking on the Icon