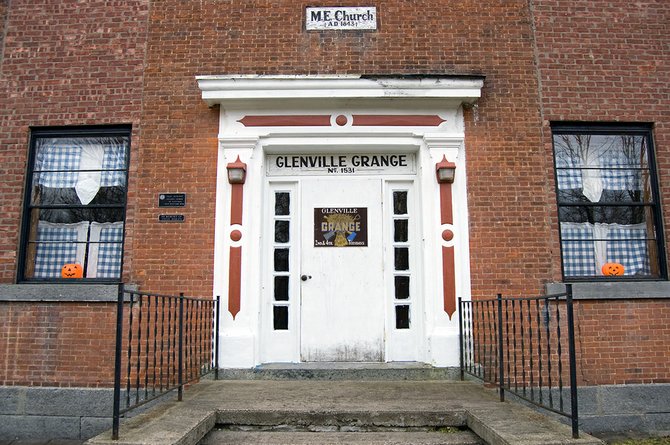 GLENVILLE — A pair of neighbors has reason to toast now that Glenville has approved their plan to start crafting their own brews.
The town Planning and Zoning Commission on Monday, Nov. 19, approved the site plan for a part-time microbrewery at the Glenville Grange building, located in the hamlet of West Glenville. The proposal from two residents for a "nanobrewery" spurred the town to add zoning amendments regarding microbreweries and microwineries to the town code earlier this year. An opening date hasn't been pinned down, and the business must first acquire a state liquor license.
The brewery holds a name fitting of the hamlet it will call home — Wolf Hollow Brewing Company, after the nearby road. Its owners said they hope to focus on the community because production is geared towards selling within the town to local residents.
"Our biggest hope is that people start to see it … as this is the beer that you get when you are here," co-owner Jordan White said.
The town defines a microbrewery as producing no more than 10,000 barrels annually, but the brewery is looking to produce only 100 barrels per year. A barrel is equal to 31 gallons.
White isn't a newcomer to the art of brewing, as he's been practicing at home for about a decade. In 2010, he completed the American Brewers Guild certification program. Later that year, he started working for Adirondack Brewery in Lake George.
Once Adirondack Brewery started to grow, White said he decided to leave. This led White to ponder selling his own beer and he talked to his neighbor, Peter Bednarek. The two are now co-owners of the company, with both having other full-time jobs.
"It is something for me that I always wanted to do on a professional level," White said. "We started formulating the idea and talking to a couple of friends of ours and they were like, 'Yeah, it is a good idea. You should go ahead with it.'"
(Continued on Next Page)
Prev Next
Vote on this Story by clicking on the Icon