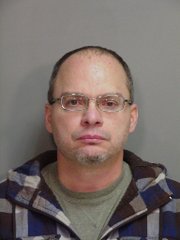 CLIFTON PARK — State Police on Saturday, Nov. 3, arrested Scott A. Phillips, 51, of 1012 Cherokee Road in Glenville, and charged him with endangering the welfare of a child following an incident in a public bathroom.
While at a sports complex in Clifton Park, Phillips allegedly peered into an enclosed bathroom stall where a 12-year-old child was using the toilet, according to police. Phillips then allegedly unlocked and opened the stall door. He then allegedly entered the stall and closed the door behind him. Police said the child pulled up his or her pants and then Phillips allegedly said to the child "wait, stop, let me look."
The child managed to exit the stall without any interference from Phillips, according to police. Authorities did not release the gender of the child.
State Police are requesting that anyone with information pertaining to this or any similar incidents contact Investigator Kevin Noto at the State Police Clifton Park Station at 383-8583.
Vote on this Story by clicking on the Icon