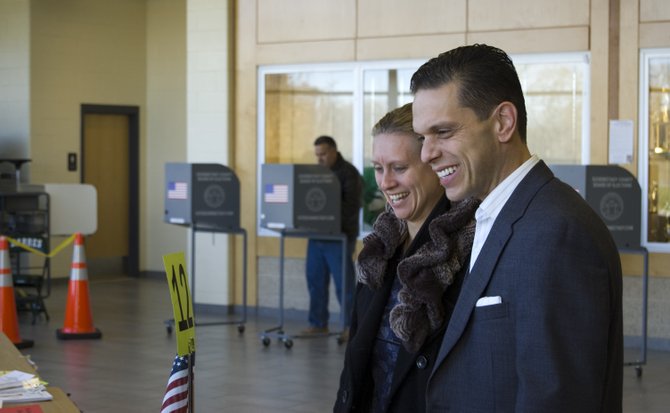 CAPITAL DISTRICT — Angelo Santabarbara emerged victorious from a contentious race against Thomas Quackenbush in the newly redrawn 111th Assembly District.
Santabarbara, D-Rotterdam, held a solid lead over Quackenbush, R-Fort Plain, with fewer than 9,000 votes separating the candidates, according to unofficial election results. Santabarbara secured the most votes in each of the three counties of the district, with the largest margin in Schenectady County and his smallest lead in Montgomery County.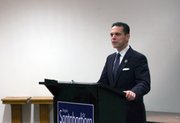 Schenectady County Democrats gathered on election night at the Ancient Order of Hibernians located on State Street, but Santabarbara waited to make his appearance until he was assured election results were securely in his favor. At around 11 p.m., he arrived to a roaring applause.
After making his way through the crowd of supporters he delivered an emotional victory speech and thanked voters and campaign workers for their support.
"It felt like we started this journey a long time ago, it seemed like forever, but I am really honored to his this opportunity to serve all of you in the New York State Assembly," Santabarbara said. "This is a very emotional moment for me."
Santabarbara said he was pleased to have served on the Schenectady County Legislature over the last five years. He said legislators have worked hard to improve the quality of life for county residents.
"We did it working together and now it's time for me … to do that same work in Albany," he said. "I will continue to fight for our working families. I will continue to fight for tax relief. I will continue to fight for local jobs."
He said economic development and job creation would continue to be a priority for him as he transitions from a county seat to the state Capitol.
This was Santabarbara's third consecutive year of campaigning. He lost a bid against George Amedore for the Assembly two years ago and retained his county seat last year.
(Continued on Next Page)
Prev Next
Vote on this Story by clicking on the Icon