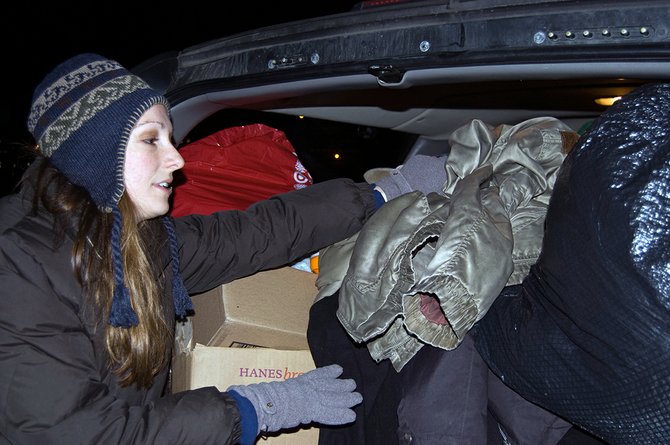 SCHENECTADY — Sleeping outside as the winter air chills the night probably isn't a comforting thought, but for some local children it's an everyday reality.
Rayn Boncie, founder and CEO of Things of My Very Own, Inc., found that out firsthand outside of Broadway Used Tires on Thursday, Dec. 20. The Sleep Out event her nonprofit hosted was aimed at raising awareness about homeless youth throughout the Capital District and soliciting donations of winter clothing and coats for children in need. About a dozen volunteers and supporters joined her chilly vigil.
Several months ago, the nonprofit depleted its inventory of winter items and struggled to get more. The event was exceeding Boncie's expectations early in the night, with her truck nearly filled with donations, but she was learning how it felt to be homeless.
"I can tell you right now, we are going to have some changes in our homeless packages," Boncie said. "We are adults and we are doing this one night, but we have children that are as young as 4 and 5 years old that don't have preparatory time … they have no idea what they're in for."
For the Sleep Out, participants only used items clients would be receiving. There were sleeping bags, but not much else to provided a good night's rest.
"I made sure whatever I wear or sleep with is only what we provide to our clients, so I could get to experience their life with what we provide," Boncie said.
Things of My Very Own is a referral-based program that provides crisis intervention services and programs to children and families across 10 counties, with 70 percent of its clients in Schenectady County. Within four hours of referral, items such as clothing, outerwear, school supplies and hygiene products are distributed to children in emergency situations. Around 5,000 clients under 21 years old are served annually.
(Continued on Next Page)
Prev Next
Vote on this Story by clicking on the Icon