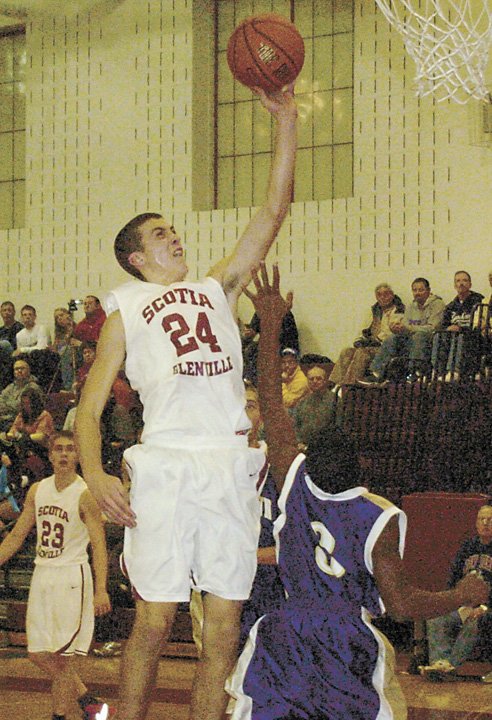 SCOTIA — Look past the gaudy offensive numbers the Scotia-Glenville boys basketball team had in Tuesday's 75-40 Foothills Council victory over Johnstown and you'll see what coach James Giammattei was most proud of.
It wasn't Joe Cremo's 21-point, 14-rebound effort. It wasn't Andrew Tabbert's slashing and dashing to a 17-point night. And it wasn't Alex Sausville's sweet three-pointers.
Rather, it was the nine points Scotia-Glenville (1-0 league, 3-0 overall) allowed Johnstown in the first half.
"That defense in the first half … obviously, we played enough defense in the first half for the whole game," said Giammattei.
The Tartans didn't pressure Johnstown into turnovers in the first half, although the Sir Bills did cough up the ball several times. What Scotia-Glenville did was pressure Johnstown's shooters just enough to make them hurry their shots and pick up the rebounds when they missed, and there were a lot of missed shots – 19 to be exact.
"To get out and play that kind of defense in the first half is tremendous," said Giammattei. "Our defense allows us to get out and run."
Scotia-Glenville had no trouble running the fast break against Johnstown. Cremo and Tabbert each had several layups in the first half to help the Tartans build a 38-9 lead.
Johnstown's offense came to life in the second half, thanks to reserve guard Ricky Mitchell. The junior drained four three-pointers to finish with a team-high 14 points.
Unfortunately for the Sir Bills, it was far too late for them to make a run at Scotia-Glenville. The Tartans never led by less than 28 points the rest of the night.
Johnstown and the rest of the Foothills Council may have to get used to this sort of treatment by Scotia-Glenville. With two juniors and two sophomores in the starting five, the defending Section II Class A champion Tartans have the appearance of a dynasty in the making.
"The best thing about having three sophomores in the rotation and starting two sophomores is they have no pressure on them," said Giammattei. "If you have five or six seniors on your team, they feel a lot of pressure (to repeat), don't they?"
Scotia-Glenville returns to action Friday when it travels to Hudson Falls.
Vote on this Story by clicking on the Icon
More like this story