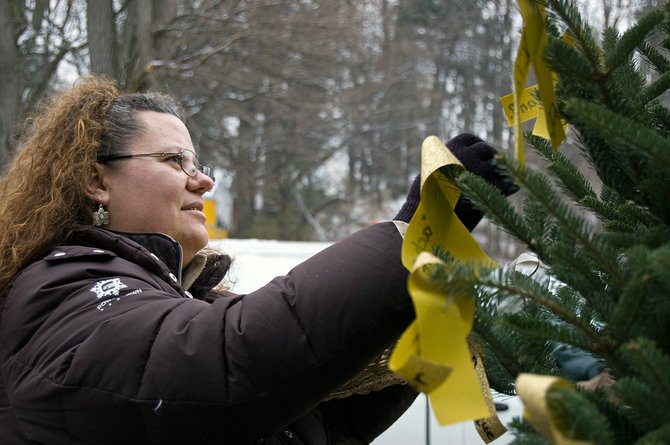 SCHENECTADY — Facing the holiday season after losing a family member is never easy, but one local mother decided to spend her holiday both honoring her daughter while raising awareness for childhood cancer.
About 200 gold ribbons adorn a tree in front of Jennifer Rathbone's home on Campbell Avenue in Schenectady. The Christmas tree stands more than 10 feet tall and shines brightly alongside the busy street, as lights illuminate the golden ribbons that each hold a different child's name honoring the "warriors and angels" of childhood cancer.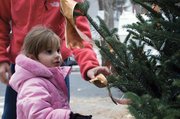 Family and friends on Saturday, Dec. 1, placed the ribbons on the tree and lit it up for the first time.
"Whether they're here fighting, whether they're a survivor, or whether they're an angel in heaven, their name is going to be on the tree," Rathbone said. "A lot of them are kids I know or have met."
Rathbone's daughter, Ila Jean, was diagnosed with stage IV Neuroblastoma in August of 2006, when she was just 18 months old. She battled the cancer for several years, but relapsed for a second time days before Christmas last year. In April 2011, Ila Jean passed away after undergoing 27 rounds of chemotherapy, several blood transfusions, numerous infections and countless trips to the hospital.
Knowing how much Ila Jean loved Christmas, Rathbone said her daughter would want the family to continue enjoying the holiday.
"I just knew I had to do something for her," she said.
This led Rathbone to create her own Childhood Cancer Awareness Christmas Tree to raise awareness while easing her family back into the holiday. She plans to make it an annual tradition.
"The most surprising thing to me was how little funding goes into research for childhood cancers," Rathbone said. "Most of the treatments that are out there for children were based on adult treatments and I was finding that the cure rates … were very low."
(Continued on Next Page)
Prev Next
Vote on this Story by clicking on the Icon