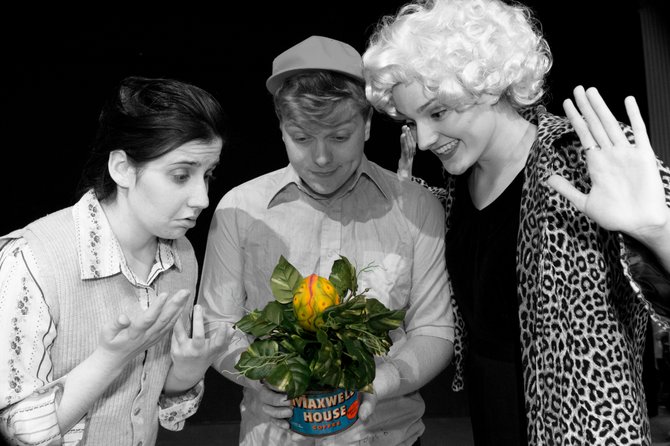 When Austin Lieber, 17, auditioned for a role in the "Little Shop of Horrors" production at the Schenectady Light Opera House, he didn't imagine himself crouched up inside a 4-by-4 foot prop playing the part of a man-eating plant.
IF YOU GO
"Little Shop of Horrors" will be presented at the Schenectady Light Opera House, 427 Franklin St., Schenectady, Dec. 7 through 9 and Dec. 13 through 16. Thursday and Friday shows are at 8 p.m. and Sunday shows are at 2 p.m. Tickets are $18 to $28 and may be purchased at the box office at Schenectady Light Opera House, by phone at 877-7378 or online at www.sloctheater.org.
But for Lieber, a Schenectady High School senior, this became an exciting and challenging mission. Having performed in a handful of school plays in the past, the job of a puppeteer was something new for him.
"It takes a lot of physical strength to be able to manipulate, plus timing," said Sev Moro, director of the production.
Moro said the trick is to be able to move and manipulate the puppet while at the same time synching the voice with someone else who is speaking backstage.
"I have to put on these root leggings and sit in a giant pot while my arms move the upper and lower jaws of the plant," Lieber said.
Lieber said physically moving the plant can be taxing and the temperature inside the creature can get almost unbearable, although he found synching the plant's mouth movements with the voice the most challenging part of it all.
"I had to figure out how to make the mouth move like it was actually speaking instead of being a bad dubbed-over cartoon," Lieber said. "At first it was frustrating because even from inside, I could tell that the lips did not synch with the words."
(Continued on Next Page)
Prev Next
Vote on this Story by clicking on the Icon