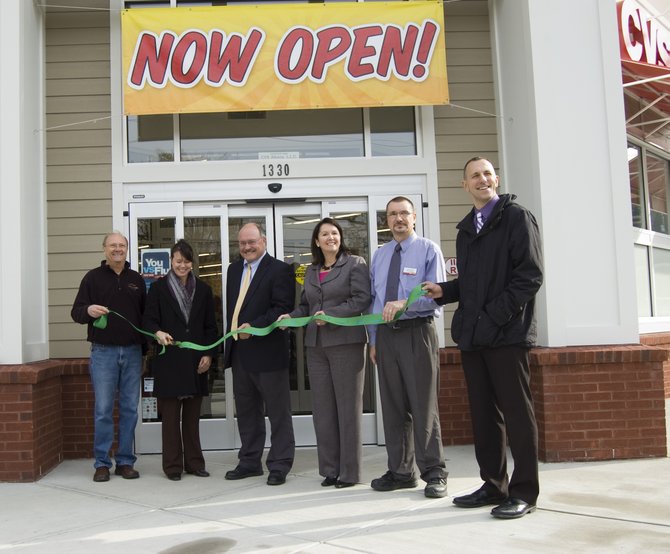 NISKAYUNA — Following the resurgence of the former St. James Square in Niskayuna, another eyesore only blocks away is now redeveloped and bustling.
The CVS store located on Balltown Road in Niskayuna got more than a facelift and moved into the former Hollywood Video next door, which occupied about half of the old facility. After Hollywood closed its doors half of the building remained vacant, which CVS representatives saw as an opportunity for expansion. Town officials joined CVS representatives on Thursday, Nov. 3, to celebrate the opening of the new store with a ribbon cutting.
Niskayuna Supervisor Joe Landry touted the story as another achievement for economic development within the town.
"This is another example of a site in Niskayuna that was an older site that had outlived its structural usefulness," Landry said. "We want to congratulate CVS … for taking that site and turning it into a brand new store."
Jane Schember, district sales manager for CVS, said the new building and site combination is the "prettiest" one in her district, which includes 21 stores covering the Capital District and some in western Massachusetts.
"I know this has been an effort in the works now for a little bit of time and we are glad that it is actually finally about to come together and not only open, but open early," Schember said. "(Niskayuna) is an upscale community and I think we finally have a building that is worthy to be here."
The bigger store allows CVS to offer a larger assortment of products with a larger grocery section. Also, Schember said the pharmacy is more "user friendly" and features a drive-thru. The parking lot has also been expanded and will be completed within the coming week.
"This old building did not have drive-thru, but once customers get comfortable with it, it is a nice feature especially for parents that might have sick children or the elderly that aren't as mobile, they can drive through and get their prescriptions," Schember said. "They are still able to talk to the pharmacist and get any questions answered as well."
(Continued on Next Page)
Prev Next
Vote on this Story by clicking on the Icon